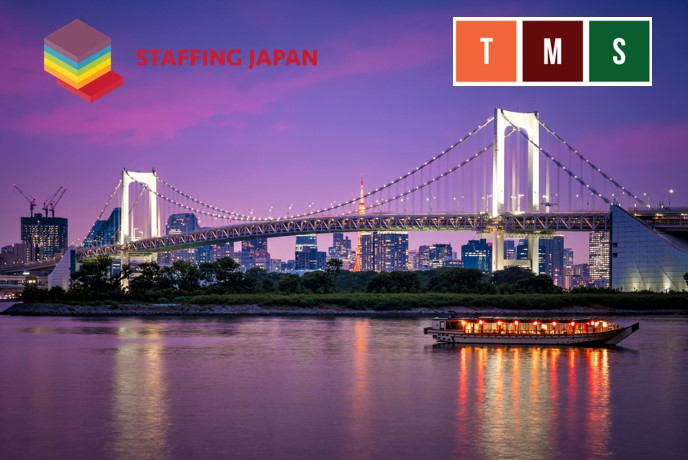 16 Feb

Talent Mobility Search Expands into Japan
Talent Mobility Search (TMS) is excited to announce its further global expansion with the launch of its operations into Japan.
TMS have signed a partnership agreement, effective February 2022 with Staffing Japan, a leading bilingual staffing and HR Services firm with offices in Tokyo and Nagoya.
TMS will be focusing on senior talent mobility and international HR roles across reward, compensation and benefits, talent acquisition, talent management, tax, immigration and compliance. The engagement will be led by the Asia Managing Partners Sean Collins and Vincent Tackoen who have over 40 years combined experience working across the HR industry in Asia and Japan, building extensive professional networks along the way.
Sean Collins, Managing Partner at TMS remarked "many of our clients have been asking us to support their recruiting needs in Japan but without an on the ground presence and language capability, it was a challenge to deliver. Now with our partnership with Staffing Japan we are able to leverage their local expertise to continue to find our clients the best HR and compliance talent across the Japanese prefectures".
Bryce Conlan, President of Staffing Japan commented "Staffing Japan is very excited to announce a new partnership with Talent Mobility Search (TMS).  As Japan looks to open their borders post COVID-19, we will be working to further assist companies with their global expansion needs, through senior HR and mobility talent introductions and placements.  We are thrilled to have this opportunity to join the experts in the TMS global network"
Staffing Japan, a division of H&R Consultants, supports various industries in Japan with both international and domestic recruiting, and a wide range of other human resource support services. Through our fully developed networks in Europe, the Americas, and Asia we dispatch or introduce human resources to any location in Japan based on our client's needs. We specialize in finding foreign candidates for difficult-to-fill positions in such fields as science, engineering, and technology as well as helping to integrate them smoothly into Japanese organizations and Japanese culture.
As part of the H&R Group, we are also able to support with Immigration services, cultural training, and wide range of relocation services.
TMS is a boutique search and consultancy firm servicing the talent mobility and international HR industry, with offices across APAC, Europe, US and India. We focus on the search, on-boarding and coaching of senior HR professionals around the world, both on the client side as well as with vendors. Since its inception in 2014, TMS has become the search firm of choice for organizations that place the emphasis on investing in the search of their most prized assets: its people and leaders. TMS also leverages over 100 years of experience amongst its partners to provide consulting to clients looking to transform their talent mobility programs, as well as business advisory to service providers who are looking to expand their business.
 To find out more or to discuss how we can help, please contact one of the following TMS Partners:
APAC:
Vincent Tackoen (based in Australia) – vincent@talentmobilitysearch.com
Sean Collins (based in Singapore) – sean@talentmobilitysearch.com
Michelle Durkin (based in the US) – michelle@talentmobilitysearch.com
Taylor Williams Smith (based in the US) – taylor@talentmobilitysearch.com
Kanak Raina Moudgil (based in India) – kanak@talentmobilitysearch.com
Simon Rogers (based in UK) – simon@talentmobilitysearch.com
Siobhan Cummins (based in UK) – siobhan@talentmobilitysearch.com